Make your website as fast as a bunny.

BunnyCDN is a simple, powerful and lightning fast CDN at a fraction of the cost.
SPEED UP MY WEBSITE
No credit card required – Get started in seconds.
100% Speed

24 Datacenters

Free Trial

Shorter distance means your website loads faster.
With our global network, your users are always just a hop away.
Test website without a CDN (2500ms)

Traditionally, your users connect directly to your server, no matter where in the world they come from. This can cause a lot of added latency and slow down your website.
Test website with BunnyCDN (700ms)

BunnyCDN brings content closer to your users. Thanks to our global presence, your content is always just a hop away from your users for maximum performance.
More CDN Benefits
Supercharge your website, video or downloads.
With a powerful feature set BunnyCDN is an ideal solution for any kind of project.
Speed Up Your Website
Speed up your website, increase conversions, and improve security and SEO rankings. Maximize ad revenue and make your users happy.
Website Acceleration
Distribute Your Software
BunnyCDN provides high-speed software delivery on a massive scale that allows you to save money and stop worrying about scaling problems.
Software Distribution
Deliver Online Video
With our lightning fast, global network, you can bring video delivery to the next level, save thousands on bandwidth and say goodbye to buffering.
Video Delivery
Lightning Fast and Feature Packed
Get ahead of the technology curve.
Free One Click SSL
Get a free SSL certificate with a click of a button using our simple Let's Encrypt integration.
HTTP/2 and Brotli Ready
BunnyCDN is fully HTTP/2 and Brotli ready, offering the performance and security of the future.
Unbeatable Pricing
Starting at just $0.003/GB we are the cheapest CDN around the globe with a simple Pay As You Go plan.
Real-Time Monitoring
Get a full insight into your traffic using our next generation real-time monitoring dashboard.
SSD Powered Servers
All of our edge servers are powered by SSD technology so you will always get super low latency access to your files.
Block IPs or Whole Countries
Protect your content and save money by blocking or redirecting IPs or countries to cheaper regions.
Never Make Your Users Wait Again
Just one second faster load time can mean thousands of new conversions.
Premium Network Partners
BunnyCDN puts your content closer to your users with 24 locations around the world, powered by premium network partners.
Smart Routing System
Our state of the art DNS routing technology always makes sure your users get the best possible network route.
SSD Powered Servers
All of our servers are powered by SSD technology to ensure millisecond latencies when serving your files.
See Network Details
Traffic Surges Are a Thing of the Past
No matter how much traffic you get, our origin shield system will handle the load.
Without a CDN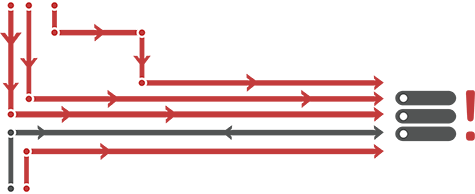 Without a CDN, your server can easily get overloaded in an event sudden surge of traffic. When this happens your website might become slow or go offline completely.
With BunnyCDN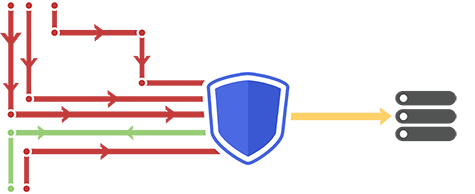 BunnyCDN origin shield system helps your server stay protected from traffic surges. Our network will handle the load so your site always stays fast and online.
More CDN Benefits
We Never Keep You Waiting
24/7 Proactive Support
BunnyCDN strives to provide the best support possible every day of the week. With fast response times, quick problem troubleshooting and a rich knowledge base, you will never be left waiting for support.
Extensive Knowledge Base
Getting Started
Expert performance tips
Advanced tutorials
Integrating BunnyCDN
Problem troubleshooting
Trusted by Thousands of Happy Customers
Andrej
Perfect, Highly Recommended
BunnyCDN is perfect in every aspect - easy to set up, cheap with transparent pricing (without hidden fees), fast and with great support. I love it!
Jack
Excellent Service
Excellent CDN service. By far the best experience I've had with any CDN. A very easy set up with great monitoring tools, not to mention the great customer support.
Spencer
Simple, High Performance CDN
You can't really beat BunnyCDN's performance, ease-of-use, and support. If you're looking for something that gives you a little more for your buck than the other guys, give BunnyCDN a try.
Xydrine
Great Performance And Utility
I'm obsessed with performance and after looking at literally thousands of waterfall charts, BunnyCDN comes out on top. Excellent CDN.

Start Your 14 Day Free Trial
You're just 5 minutes away from a faster website. No minimums and no commitments.
SIGN UP NOW